Durian – the thorny king of fruit, one of the things that you either love or hate. The flesh inside this dangerous-looking fruit has unquestionably gained quite a reputation, mainly due to the way it smells. In fact, the smell is so strong that it has caused a university evacuation in Australia earlier this year because they thought it was a gas leak. The haters often describe it as the smell of a strong cheese, onion, gym socks ("like seriously?!" Monologue of a durian lover like me when listening to comment like this, lol!) I am here to speak up for durian.🤣 Not only is it nutritious, it can actually make a pretty decent durian dessert too when mixed together with other ingredients to slightly tone down its taste and smell (if that's your concern).
Love it!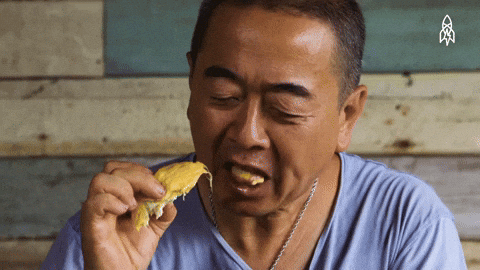 Hate it!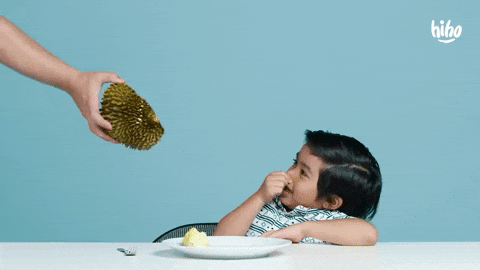 Durian Dessert, a New Stage to Shine!
Giving a new life and stage for durian to shine by making it into durian dessert. If you're eating durian for the very first time, I would suggest starting off with a dessert form of durian. It's a more subtle way to start and learn to love durian. Some of the common durian desserts available out there are durian ice-cream, durian cheesecake, durian crepe, durian pancake, durian cendol and etc. However, most of them have added quite a bit of cream, butter, coconut milk and sugar making them high in fats and sugar, hence less healthy.
I would like to share with you this durian dessert recipe I've re-created that was inspired by chef Amy Beh's creation. It is Durian Yoghurt Chia Pudding, an easy and healthy recipe with less than 5 ingredients. Low-fat milk, plain yoghurt and chia seeds are used to give more nutritious protein, healthy fats and fibre to this dessert. Taking advantage of the natural sweetness from the milk and durian, we're not adding any sugar to the recipe.
Durian Yoghurt Chia Pudding
---
Serves: 2                Time: 2 hours 15 mins
Ingredients:
1/2 cup low-fat plain yoghurt

2 seeds durian flesh

4 Tbsp chia seeds
1 cup low-fat milk
4 slices strawberry for garnishing
Preparation:
In a mixing bowl, mix together yoghurt and durian flesh. Stir well and chill in the refrigerator.

In another bowl, add in chia seed and milk. Give it a gentle stir to break up any lump of chia seed, cover and set it in the refrigerator for about 2 hours.

Layer the bottom of 2 glasses with the chia seed pudding evenly.

Top up with the durian yoghurt and garnish with 2 slices of strawberry each before serving. Enjoy!
Tips:
Use a fork or a pair of chopsticks instead of a whisk when mixing the yoghurt and durian flesh. This is because the fibrous flesh of durian might get stuck on the whisk which can be pretty hard to remove.
Nutritional Facts:
Per serving: 288 calories; 12.3 g fat; 33 g carbohydrates; 11.5 g protein; 11 g fibre
Carbohydrate Servings: 2