We have a talented group of health writers that provide thoughtful and useful articles each week. Most of them have a background in healthcare and several years of clinical experience.
​
A registered dietitian with 10 years of experience, Hannah's passion is to support people with diabetes to meet their nutrition goals. She believes that above all, you need to enjoy your food.
​
​
Jasmine is a dietitian who loves to teach. She believes that food is a powerful tool in healing. She has 4 years of experience at Khoo Teck Puat Hospital. Having the opportunity to make a difference in your life is what keeps her going every day.
​
​
Bonnie Lau is an Australian-trained dietitian with almost 4 years experience. She has worked at SGH and TTSH prior to joining Holmusk. She believes in the empowerment of clients to take greater control of their own health and achieve nutritional goals. She loves food and is passionate about balancing health and enjoying Singapore's amazing food scene.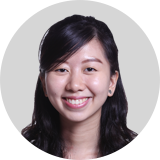 Liz is a psychologist with a passion for humanising healthcare. Her focus is on the problems and psychological barriers people face when diagnosed with a chronic disease. Prior to Holmusk, she volunteered as a Mind Stimulation Practitioner at NKF and helped out at MINDS. She also enjoys painting, flower arranging, snorkelling and a good cup of coffee.